Allmountain Sports AG Lenzerheide
Allmountain Sports AG Lenzerheide
closed
Contact
Allmountain Sports AG Lenzerheide
Voa Sporz 9
7078 Lenzerheide Phone +41 81 384 35 73
07/12/2023 - 01/04/2024
Monday
08:30 - 12:00 und 14:00 - 17:00 o'clock
Tuesday
08:30 - 12:00 und 14:00 - 17:00 o'clock
Wednesday
08:30 - 12:00 und 14:00 - 17:00 o'clock
Thursday
08:30 - 12:00 und 14:00 - 17:00 o'clock
Friday
08:30 - 12:00 und 14:00 - 17:00 o'clock
Saturday
08:30 - 12:00 und 14:00 - 18:00 o'clock
Sunday
08:30 - 12:00 und 14:00 - 18:00 o'clock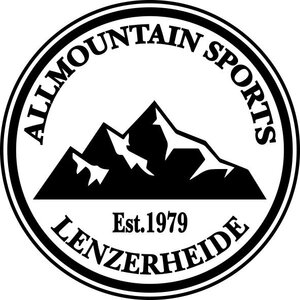 Get professional and individual advice. Use our expertise to make your sports day an unforgettable experience.

Visit Allmountain Sports Lenzerheide.
In summer we stand for bike no matter if with or without engine, on 2 wheels the summer in the mountains is even more beautiful.
In winter our heart beats for ski, snowboard and cross country skiing. We offer bootfitting, ski boots on Maas and ski service on the latest machine in the region.
We are happy to advise you personally, individually and with passion to find the perfect equipment for unforgettable days on trails or in the snow.
Rental equipment summer: Enduro muscle bikes, Enduro E-Bike Rental
Rental equipment winter: Skis, ski boots, snowboard, snowboard boots, cross-country ski set, sledges, snowshoes.